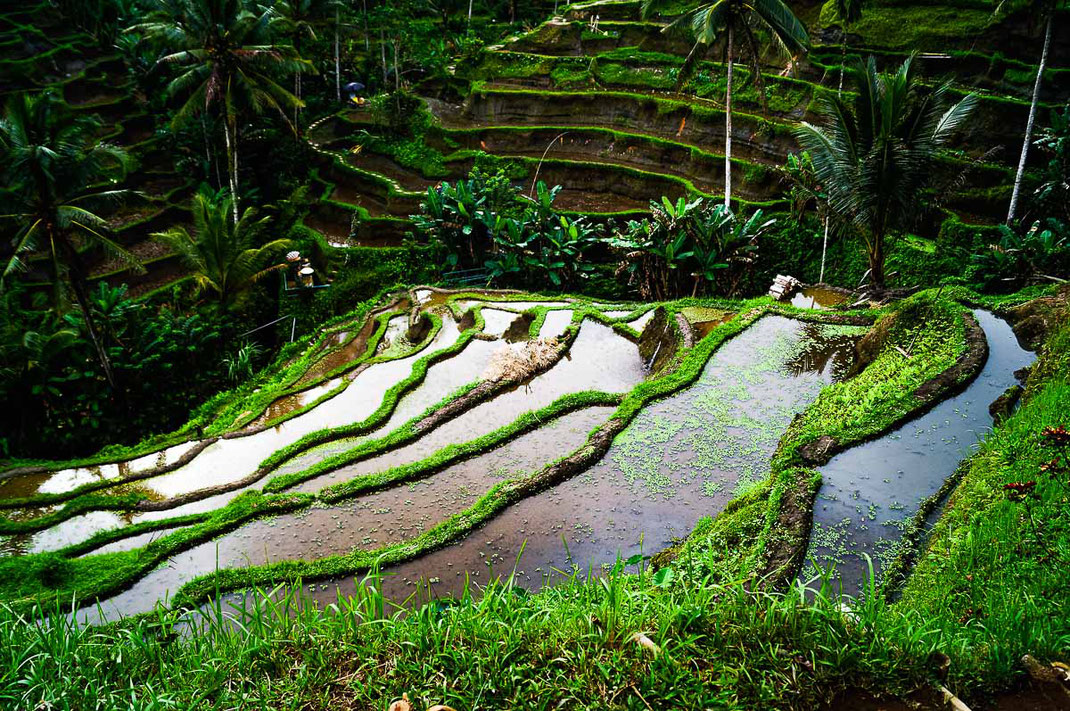 ---
The rice terraces of Tegalalang are probably one of the most famous photo motifs in Ubud, probably even in Bali. Everyone who is in Ubud will sooner or later pay a visit to the rice terraces. So we also stopped on our joyride with the scooter through the hinterland of Ubud after the water temple Pura Tirta Empul at the rice fields. The ideal place to enjoy the great view and escape the noise of the streets.
We parked our scooter directly at the roadside and already from here we had a magnificent view of the rice fields. So if you don't feel like a little hike, you can just sit down in one of the cafes on the side of the road and enjoy the view. However, we wanted to immerse ourselves in the green oasis and followed the signs that led us through narrow alleys to the beginning of the rice fields. Here, a small path winds its way up a slope, partly over bridges, through the rice terraces. At the top you can follow the path to the right, which leads you to the quiet back part of the rice fields and isolates you a bit from the hustle and bustle. We were in the fields in the late afternoon and there were surprisingly few tourists on site. However, they are no longer an insider tip and so it can get pretty crowded at lunchtime.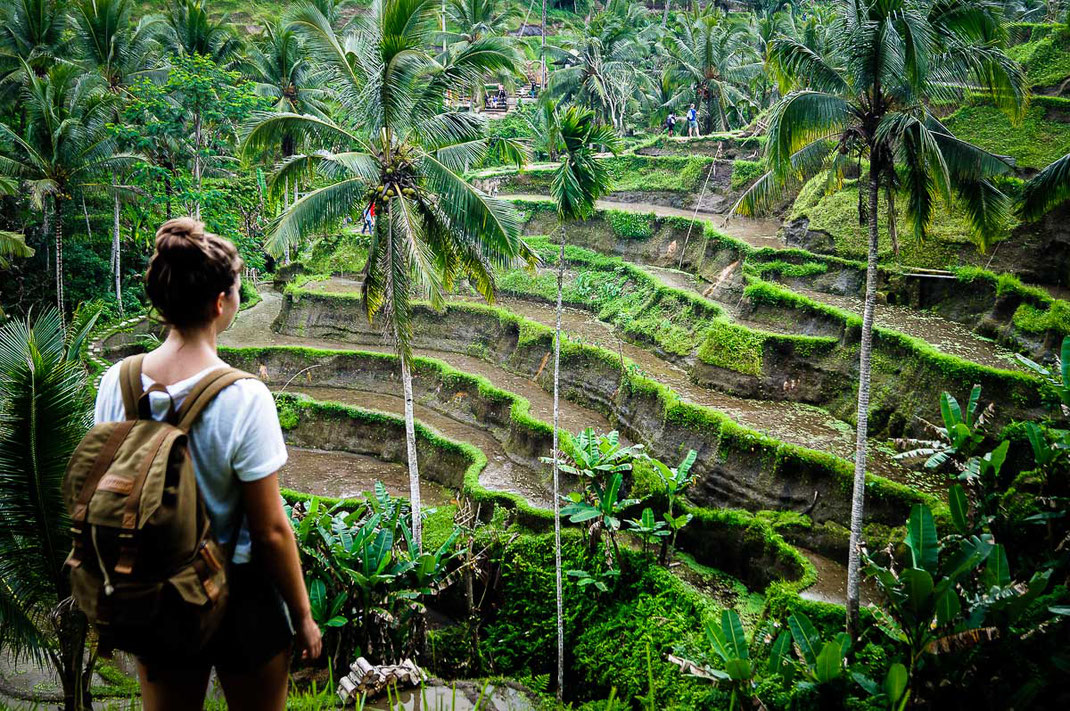 Following the circular path, you reach the already mentioned back part, here you will find some small warungs and of course more rice fields. We were in the terraces at the end of July on the road, which is why these were unfortunately partly completely harvested or the rice plants were still quite small. We strolled under the palm trees along the narrow path through the green landscape. Discovered the different levels of the plantation and watched the passing clouds in the reflections of the individual fields. After about 30 minutes of walking we reached again the starting point of the hike. A small note regarding the entrance fee. Basically there is no entrance fee, but in some places a small donation is requested. Reasonable are about 10,000 IDR, which means that one comes to a total of about 30,000 IDR (~ 2 $) for the entire route. With these small tolls, the locals maintain the paths and bridges, but this does not mean that they are in perfect condition, so wear sturdy shoes if possible.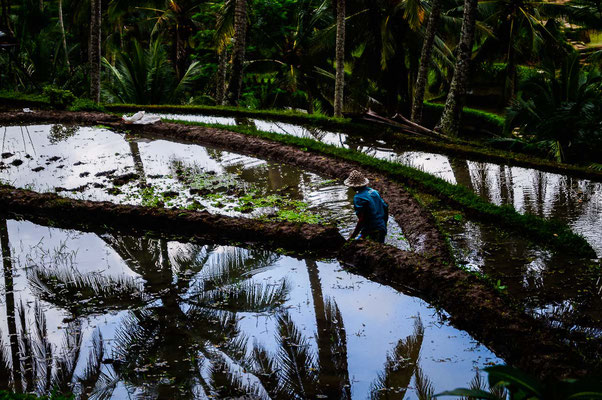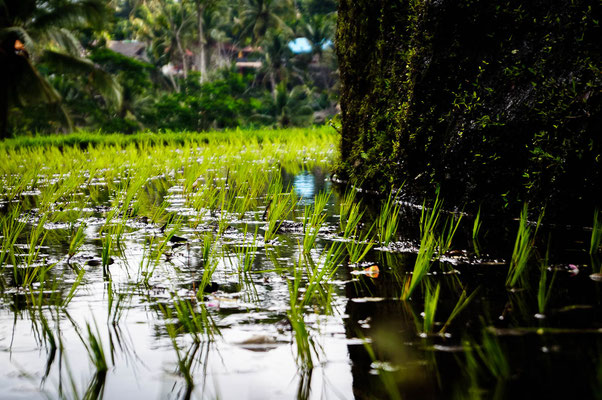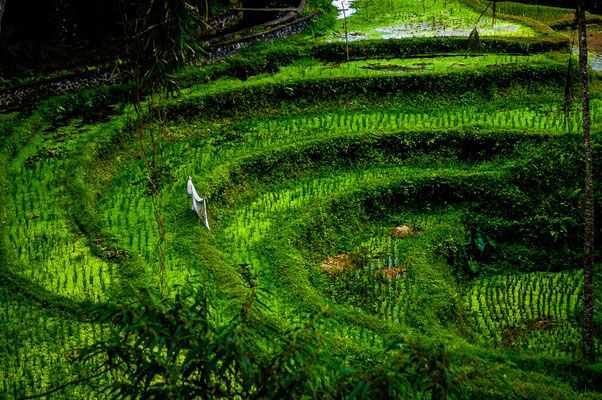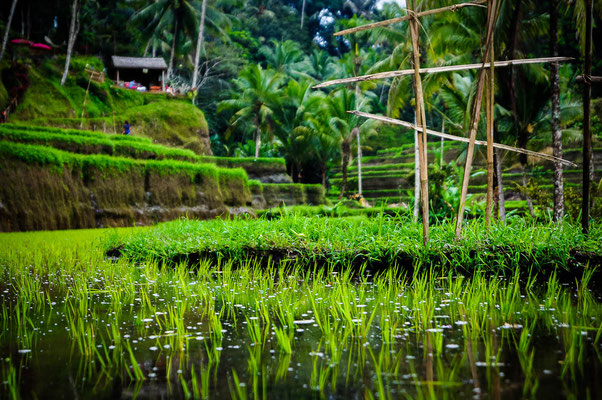 When we had completed the tour, we turned around once again and enjoyed this breathtaking landscape one last time. Afterwards we drove back to Ubud with our rented scooter to cool off in our small pool. The evening we let relax in a trendy cocktail bar with live music end, because the next morning already awaited us the notorious Monkey Forest!
---
---