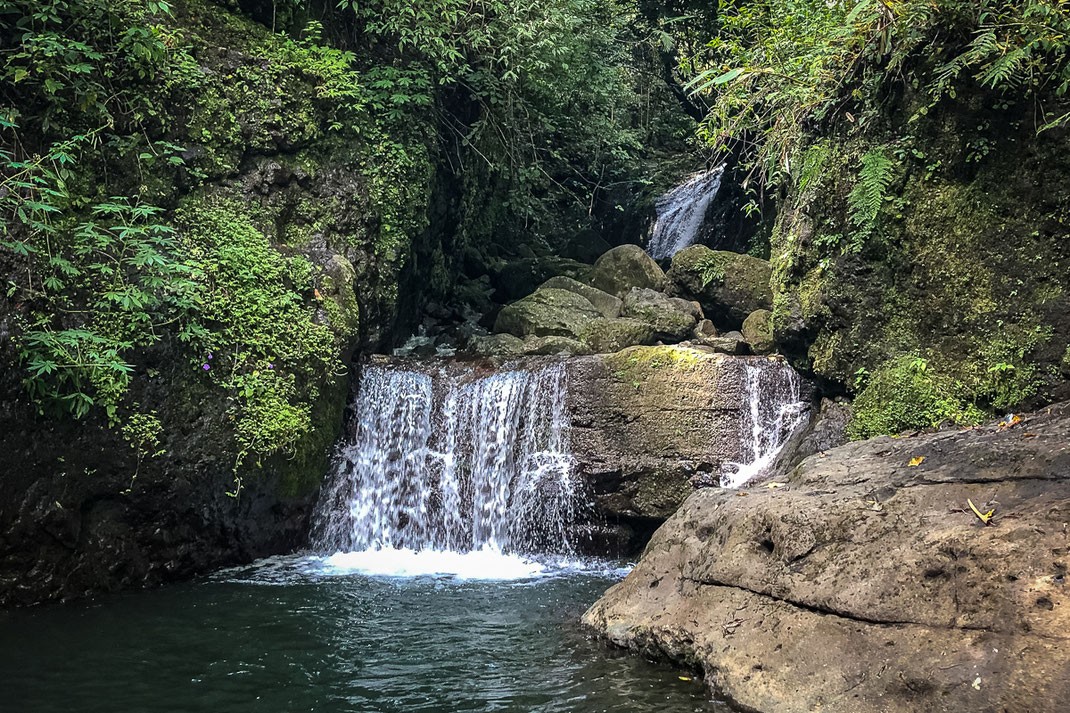 ---
If you just want to unwind after the strenuous hikes, the Chorro las Mozas is just the right place. This small adventure pool is located on the Ancon River and is a popular meeting place for the locals. According to legend, each of the three waterfalls stands for a sister who was disregarded by her parents. And so we set off in our car to this place to explore the various pools and dare a jump into the cool water amidst the green nature.
Chorro las Mozas is located about 2 kilometers from the center and is basically accessible on foot. But since we already had enough meters in our legs, we decided to use our rental car. At the entrance we had to pay 3 $ for the parking lot. This is located directly on the river and was already well visited during our stay. 
The path to the waterfalls leads you directly along the river bank on the right. At the beginning, this was still concreted and provided with a railing. The further you get, however, the narrower and more slippery the path becomes. At the end it was only a small path, which was cut into the adjacent rock wall and on which the water partially overflowed. So put on sensible shoes. With FlipFlops it is a bit difficult. Finally arrived at the third waterfall, it was out of the clothes and into the water. If you want you can also jump from a raised ledge. After a few hours in this small natural adventure pool we went back to our accommodation. Afterwards we spent the evening in a small pizzeria on the outskirts of town, before another hike the next morning. Our goal was the sunrise at Cerro la Silla!
---
---